TETRA Fire Engineering Pte Ltd - A Brief Company Profile


TETRA Fire Engineering was registered as a private limited company in 1994. Comprising of personnel with over 20 year of experience in fire protection and marine industry, we have since grown with increasingly specialized knowledge coupled with relevant experience brought on by challenging projects. TETRA is involved in the design and supply of fire detection and extinguishing systems to the marine and a few land-based industries (eg. refinery and pharmaceutical). Our involvement is support either in direct sales or providing specialized services as a sub-contractor when approached by other companies.

The following is a brief list of the fire protection systems and related equipment that are being supplied:

Co2 Systems - High and Low-pressure Systems - for ships' engine room, switchgear room, pump room; also for rigs and platforms etc.


Foam / Water Fire Monitor Systems - Foam extinguishing systems, including supply of foam and water monitors for oil, chemical tankers, mud-pit room for drilling rigs, seismic cable reels, etc.

Manually operated, electric remote controlled or electro-hydraulic controlled foam and water monitors are supplied to harbor tugs (dedicated to fire fighting duty), supply vessles, anchor handling tugs and other fire fighting vessels.

Foam system for tank farms can also be supplied.


Fire Detection and Gas Detection Systems.


Water Deluge and Spray Systems - for production equipment on FPSOs, rigs and fire-fighting ships used to access burning structures.


Dry chemical System - for protection and extinguishment of fire on LPG pumpsets, LNG & LPG ships, pharmaceutical industries, refineries and similar industries.


Oil Dispersant Systems - incorporating spray booms to spray OSDA to disperse light oil spill on the sea.


Water Sprinkler System for ship's crew accomodation and other areas that require similar protection.
A majority of the above systems are subjected to Marine Classification Societies' review and approval prior to supply and installation. Such approval will be submitted on behalf of the customer.

TETRA is involved in recommending and engineering fire fighting systems to various customers, taking into consideration their location and space constraints. All equipment recommended in any fire protection system must comply with relevant industry standards and is sourced from reputable manufacturers, both locally and overseas.

We are representing and designing fire protection systems using equipment manufactured by CACCIALANZA from Milan in Italy. In view of the lead time required for the delivery of such equipment from the manufacturer, TETRA has in stock a range of Foam Fire Fighting Monitors (large and small) and Foam Proprotioning equipment as well as Deluge Nozzles.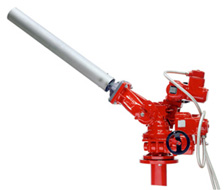 A current staff of five personnel with an excess of 50 years of experience in the fire fighting protection industry, TETRA Fire Engineering has invested extensively in suitable information technology to implement efficient design processes and accurate documentation. We are currently certified to the ISO 9001 Quality Standard and are awaiting our actual certificate.

TETRA has designed and supplied fire fighting protection systems for numerous customers overseas. This always involves careful communication as well as the ability to satisfy different requirements with minimum face to face interaction. Equipment will also be suitably packed for export and arrangements for freight (air or sea) can be arranged.